LiyahVendetta's Blog/News
| | |
| --- | --- |
| Posted on February 28, 2014 at 8:00 PM | |
A BIG HELLO to everyone! Hiya'!!:lol:
Each month, I will let you in on my Holy Grails and favorite products for that month. Although I have many favorites, I will try to limit them to fewer than 10 each month. Many of these products I have had for several months and I am barely getting to use them. Yes, I am a makeup hoarder, don't judge me. I have a habit of getting stuff and storing them away for later. Okay, let's get down to business.
This month I had 5 favorites. Yes, only five for this month :(.
The Favorites for February:
OLE HENRIKSEN Truth To Go Vitamin C Wipes.
I love these wipes. Very light scent of orange (love the smell of oranges). Very gentle cleansing wipes that provide moisturizing and age defying properties. Vitamin C and micro algae to help firm, brighten and smooth the texture of your skin. Super yay! Not only do I use this to remove dirt or makeup from my face but also in the morning to clean my face with them and then follow up with the foam cleanser that I use from this line that I am obsessed with (product on my January favorites). I really love the Ole Henriksen line, pricey but worth the $$$$ spent on their products.
Product does not contain:
- Parabens
- Sulfates
- Phthalates
NOTE: Cruelty free
PRICE: 10 wipes for $10 (30 wipes pack $15)
Where: http://www.sephora.com/truth-to-go-vitamin-c-wipes-P271703?skuId=1280015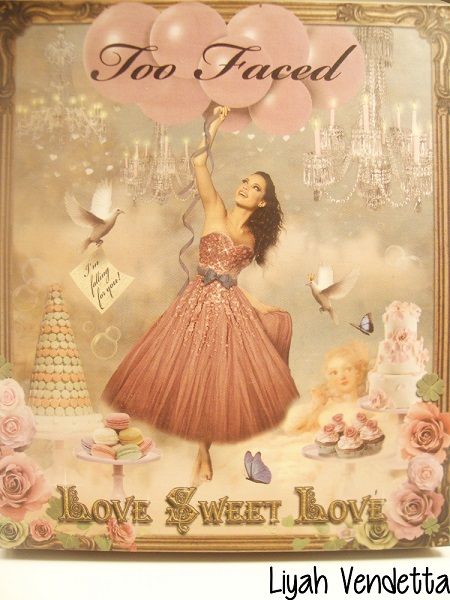 Too Faced Love Sweet Love palette
This palette was part of their 2012 Holiday line and was also given as a free gift with a $50 purchased on their website in February 2013. I really love this palette for a natural simple look. The palette looks like a cute little booklet with a mirror inside along with three different makeup looks guide. Palette contains 6 eyeshadows, two blushes and two lip pans. Colors I dislike from this palette are Strawberry Cream, Burnt Sugar & Licorice Glitz.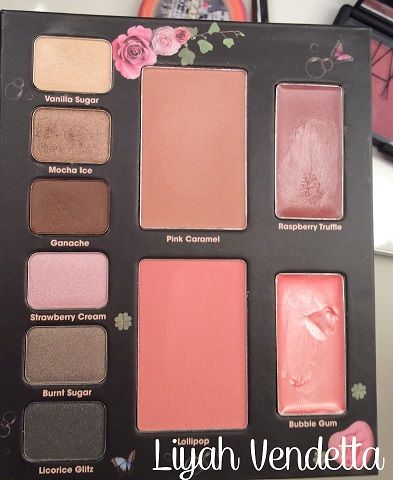 Eyeshadows:
Vanilla Sugar- pale off-white with light sheen.
Mocha Ice - medium metallic warm brown.
Ganache - medium brown with a light sheen.
Strawberry Cream - shimmery pale pink. (seems chalky to me)
Burnt Sugar - medium taupe shimmer. (seems chalky to me)
Licorice Glitz - charcoal grey with silver micro-glitter. (seems chalky to me)
Blushes:
Pink Caramel - light brownish pinkish shade (love this blush)
Lollipop - bright candy pink. (a little chalky looking on me)
Lips:
Raspberry Truffle - sheer medium rose pink.
Bubble Gum - a light sheer shimmering/icy pink.
NOTE: Cruelty free
PRICE: Retails for $36
Where: no longer sold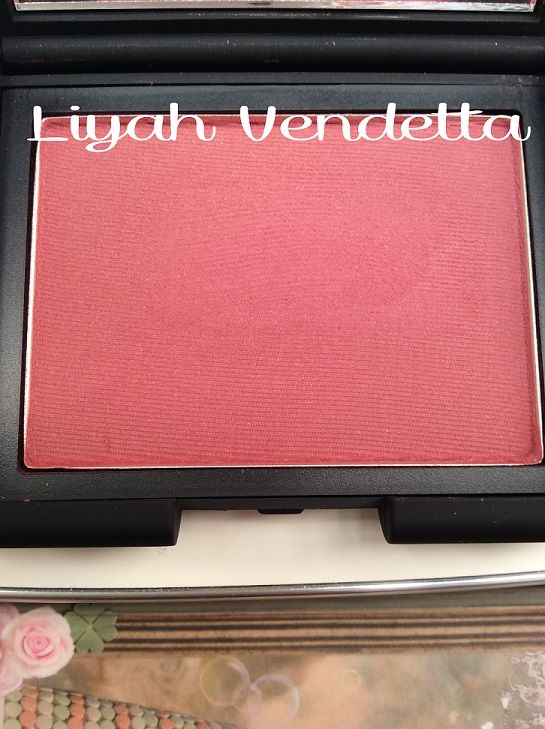 NARS blush in Dolce Vita
How I love this color in all their products and how this is my #1 favorite blush color to use. A little of this goes a long way. Dolce Vita is a dusty rose color with a matte finish.
NOTE: NARS is cruelty free (their parent company is not)
PRICE: $30
Where: Sephora or NARS website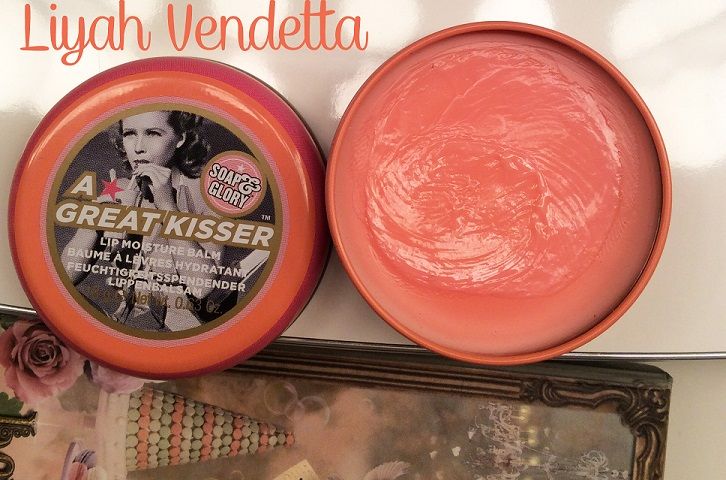 SOAP & GLORY: A Great Kisser Lip Moisture Balm in Juicy Peach
I love the smell and the feel to this balm!!! Love it, love it, love it! Very creamy and light. Goes on very sheer and I smell the peaches!!! Contains mango butter to moisturize, apricot berry protects your precious lips from those cold cold winter winds and lingonberry oil for hydration. Non-greasy feeling.
Does not contain:
- Parabens
- Sulfates
- Phthalates
NOTE: does not test formulations on animals
PRICE: $10
Where: http://www.sephora.com/a-great-kisser-lip-moisture-balm-P378011?skuId=1567189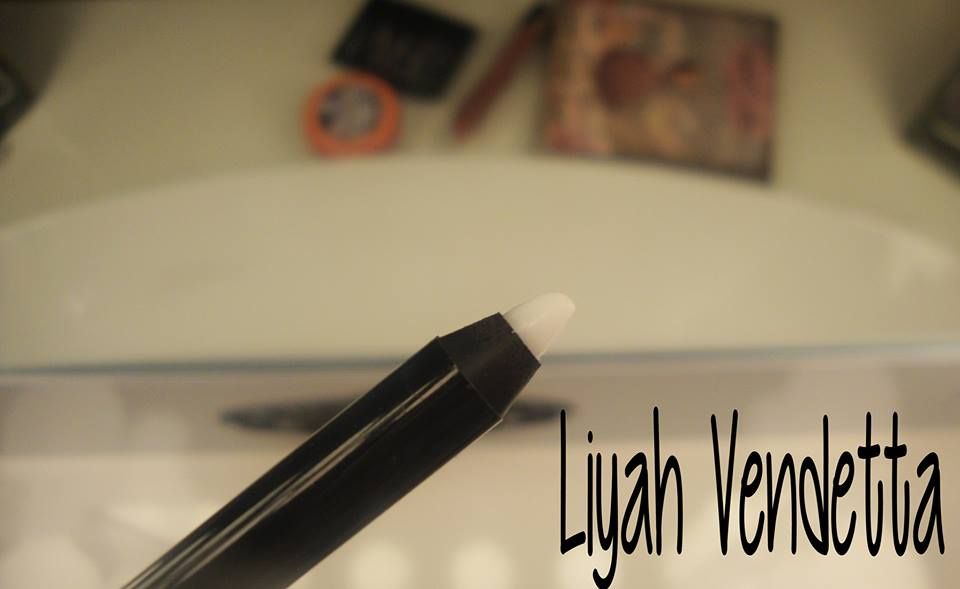 Milani ANTI-FEATHERING LIPLINER
I love this lipliner! If you're looking for a cheaper version of UD Ozone ($20) and Make Up For Ever lip line perfector ($19) well look no further, Milani's anti-feathering lipliner is at your service for just $4.49. This is a transparent lipliner that prevents lipstick & lip gloss from feathering. I also use this as a lip primer & liner filler to extend the wear of any lipstick or lip gloss. Contains vitamins and moisturizing ingredients for a smooth application. Paraben-free.
NOTE: Cruelty free
PRICE: $4.49
Where: CVS, Walgreens or at http://milanicosmetics.com/p-179-anti-feathering-lipliner.aspx?PC=10&
There you have it, my February favorites. Have you tried any of these products? If so, what are your thoughts? Well that is all for now, look out for future posts and more monthly favorites each month. Stay safe, stay positive, be you because you are beautiful.
XOXO,
Liyah Vendetta
Categories: Monthly Favorites, Beauty