LIYAH VENDETTA
Tuesday- July 30, 2013
---
---
---


I hit 100 likes on my Facebook page!! YaY!!!!!! & for hitting the 100 like mark, I present to you an awesome giveaway featuring three pieces by Milani Cosmetics. Milani is one of my favorite drugstore brands. Milani's cosmetics are highly pigmented, nice quality and affordable. & they rock for being cruelty-free! If you don't know this yet, I try not using products that test on animals or have harsh ingredients. So enter now!!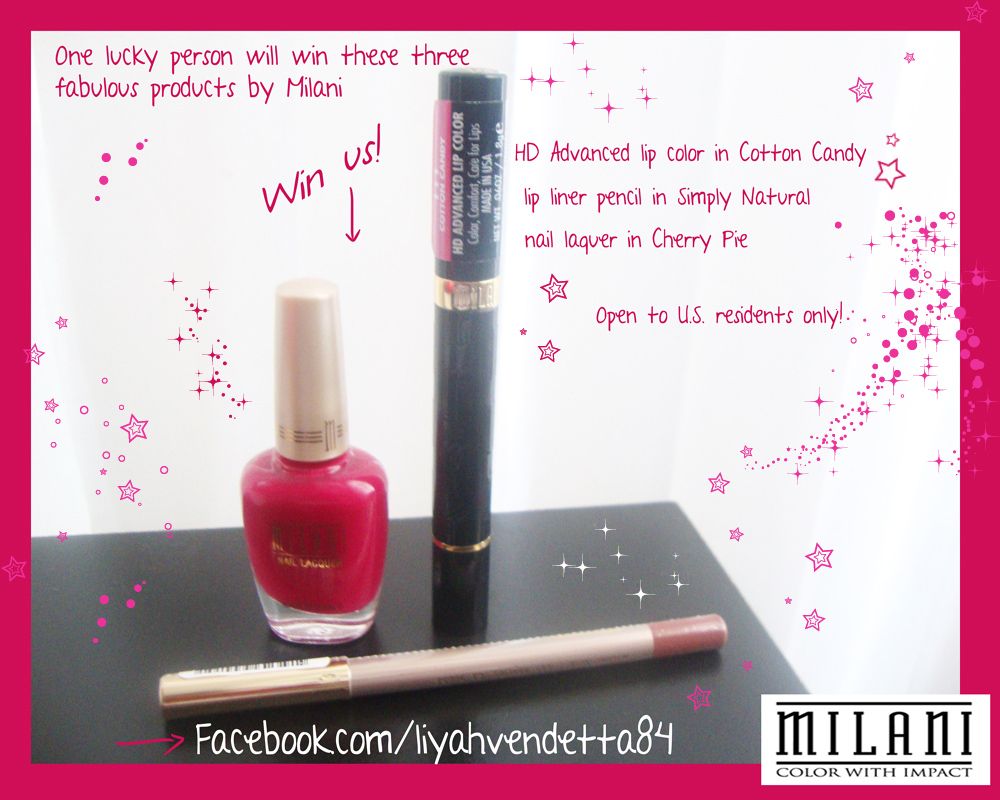 GOOD LUCK! xoxo Liyah Vendetta


---
---
---
Tammi W. is the winner of set #1
Ashleya J. is the winner of set #2
Stay tune for another giveaway once I hit 100 likes on my Facebook page. This giveaway will be quick & have an easy process. Thank you.
Friday - July 5, 2013
OoOh snaps! Liyah Vendetta is having her 1st giveaway!
How cool is that? 2 winners for this giveway. One lucky person will win set #1 and the other one will get set #2
Set # 1 - Wet n Wild Metallica & Zoya Goldie
Set #2 - Wet n Wild Bijou Blue & Zoya Arizona
All you have to do is follow the instructions listed on the Rafflecopter. Giveaway starts Saturday July 6, 2013 and ends Saturday July 13, 2013. Share this post with all your friends. Good luck! xoxo
& if you have some time, please checkout the blog sale. It is a charity blog sale where 50% of the proceeds go to the Lupus Foundation of America.

Click here for the charity blog sale!